Description
Desktop Dungeons is a quick-play puzzle roguelike. Explore randomly generated dungeons with a cast of disposable adventurers and try to defeat each dungeon's boss to bring back loot. Upgrade your Kingdom to access more classes, races and powerful items to help in your adventures.
History
Full Release
Desktop Dungeons has been available on Steam since 7th November 2013 for PC/Mac. It can also be played from DesktopDungeons.net using the Unity3D web player. Linux, iOS and Android versions coming soon.
The Beta
After the massive success of DD's alpha version (including an Excellence in Design award at the IGF), the decision was made to rework the game and bring it to as many platforms as possible. Unity proved to be the perfect environment and the Unity build of Desktop Dungeons was unveiled at the IGF Pavillion at the GDC in 2011. The beta went on to be exhibited at E3 2011 as part of the IndieCade Showcase and at IndieCade itself later in the year. In June 2011, we opened pre-orders for Desktop Dungeons and gave all pre-order customers access to the in-development beta. Since then the game has been updated every week, growing and evolving as we received feedback from our players. Some beta players have put thousands of hours into Desktop Dungeons and they don't appear to be done yet! The last version of the beta, update 128, went live on November 1st, 2013. Those who pre-ordered the Beta received free Steam keys with their purchase.
The Alpha
Desktop Dungeons emerged from the head of Rodain Joubert early in 2010. He put it up on the game development forum he frequented at the time. It exploded outwards from there and hasn't slowed down since. Shortly after the game's appearance on said forum, Danny Day and Marc Luck invited Rodain into their company, QCF Design, to finish the game. For most of 2010 they worked on refining the game, eventually entering the final build into the IGF, where it was nominated for two IGF awards. Desktop Dungeons won Excellence in Design and fell to Minecraft in the Grand Prize category. The alpha is still freely available on DesktopDungeons.net.
Videos
Long Trailer - Goat Contact YouTube
Short Trailer YouTube
Gameplay "Adventuring 101" trailer YouTube
Steam release date teaser trailer YouTube
Images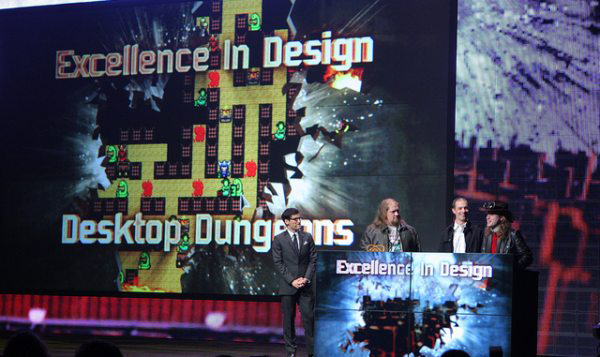 There are far more images available for Desktop Dungeons, but these are the ones we felt would be most useful to you. If you have specific requests, please do contact us!
Awards & Recognition
"Winner: Excellence in Design, IGF 2011" - Independent Games Festival, San Francisco, 2 March, 2011
"Nomination: Seamus McNally Grand Prize, IGF 2011" - Independent Games Festival, San Francisco, 2 March, 2011
"Finalist: IndieCade 2011" - Los Angeles, 8 October, 2011
Additional Links
Desktop Dungeons OST
Beautifully crafted soundtrack by the talented partnership of Danny Baranowsky and Grant Kirkhope. Support their work at dbsoundworks.bandcamp.com.
Team & Repeating
Collaborators
Marc Luck
Design, Programming
Danny Day
Design, Programming
Rodain Joubert
Design, Programming
Dorianne Dutrieux
Art and Illustration
Patrick Lambert
Art and Illustration
Przemysław Mikołaj Korczyński
Art and Illustration
Danny Baranowsky
Music
Grant Kirkhope
Music
Jordan Fehr
Sound Effects
Dren McDonald
Sound Effects
presskit() by Rami Ismail (Vlambeer) - also thanks to these fine folks